Green Growth:   The Fatal Illusion of a Blood Transfusion Solution!
A 'Simple Remedy' for 'Climate Change':     A 'mere' 'Blood Transfusion'…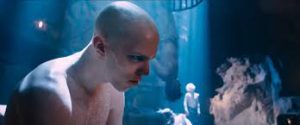 It could be said, that the Energy we humans need to 'Fuel Our  Everyday Lives', whether that be food, fossil fuels, electricity, it is as important as our life sustaining Blood. Without either we would cease to exist!
In that view, many  humans (maybe most?) believe the Solution to Climate Change is:
To 'just' replace our Fossil Fuel, contaminated 'Blood', with clean, green, Renewable Energy, 'Blood'..
A 'simple' Humanity wide 'Blood Transfusion':
And only needing a short 'pitstop', to change fuels, and then enable us to 'just carry on' as fast as we can, towards the only 'Success' we know.
More and more, bigger and bigger, faster and faster, using the deepening, rutted path, THE System makes 'us' follow today.
Our insatiable Consumption, is its trench digging machine, and domination and destruction of our scarce Natural Resources its mode.
That's The Green Growth story!    Our Self-Extinction it's lethal goal!
Is a 'Blood Transfusion' REALLY, ALL we need?   OR……..
Do we have a much more 'Chronic Condition' problem?   One that is also linked to a 'disorientated' mental state:
A state that has hypnotised us to accept today's 'Human System Goal' of an 'Off Purpose', course, as a flawed, Human 'Success'?
It would appear that  in this disorientated we can't even see our chronic, 'Chronc State', and can't see our vulnerable context in the vast 'Nature System'.
Humans Defying Nature.
Who will win?
The 'Human System' or the 'Nature System' ?
Nature is ultimately in control of THE only, TRULY important 'System': THE Cosmic System, that will be around forever and the One :
Eventually, our future existence, is ONLY going to be about how Honestly we Humans are able to assess our 'Holistic Health', and The Powers that Be are doing that Today!