The Now  (and my 'Other Now')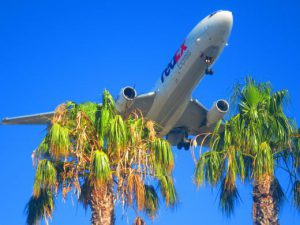 My 'Trumped by Nature' adventure has entered a new (for me) blogging phase. Maybe you old hand, avid 'Facebook-ers' dealt with this a long time ago:
Just so I don't disappoint you:   This blog is not about sharing my everyday life and all its intimate personal experiences. Rather this One Point Zero Blog is part of my work as an activist. The blog is where I share my 3 month 'Trumped by Nature' adventure experiences only as they relate to this work:   Our, My and Your, One Point Zero Challenge.  Imagine you blogging your work, and what you would and wouldn't share….?  I'd honestly love to share some of the many dimensions of my time here in San Diego, suffice to say, I'm having a wonderful family, San Diego, and Howard, time!
Wimbledon Today in San Diego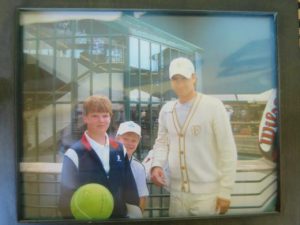 In that restrictive context, I sit here typing this blog to you surrounded by Wimbledon memorabilia, a 2002 photograph of my two nephews with Roger Federer in the Wimbledon Players' lounge, two huge glass encased Wimbledon Tennis balls, autographed  by the world's top tennis players of the day, and today is Wimbledon Men's Final day.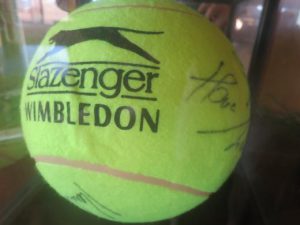 I have had hours of reminiscing with my sister of the times she played centre court and her views of Wimbledon, Professional Tennis, and the loneliness of the professional in her day versus the professional today with their big entourages.
Then getting closer to One Point Zero, I press her on our society's obsession with competition whether she things being paid to win, with the such high stakes of today has 'turned us' into a better society?  Her husband Bob, as one of the top sports psychologists for many years, joins in the discussion and my loneliness increases as I challenge them both as we explore the truths on the role of Competition and Professional sport in Society today.
When I left society in 2004 on my Journey to the Truths,  I vowed to myself was that I was not going to compete again: Competition had made me too focused on the endpoint of winning, and I sensed in the process I had become too rational, almost Machiavellian 'non-human', and was missing the learning in the relationship, spiritual and emotional journey dimensions. This was a huge change for me, coming from very competitive orientated family, and then always immersed in the competition of business, and many different competitive sports. I still set goals, but they weren't about winning, making money, climbing social ladders, and records etc.
As I transformed more I became to see a goal as merely a beacon that defines 'My Journey', and actually while this beacon is important in setting the journey, I should be open and prepared to revisit the beacon and maybe move it if the learning indicated that best. The winning that the beacon supposedly stood for was not the idol.
In the twelve years where I dropped my competitive pursuits, society appears to have significantly increased its competitive focus, and the winning at all costs mind set, across business, sport and even at a social status level.  Competition has a place in society, but I sense it's grown too big, and we need to  put it 'back in its place'.
I see the huge problems of Corruption, Drugs / cheating in Sport, unethical Capitalism, and the increasing gap between the rich and poor as all signs that Competition has lost its 'proper' place in society. It's not just the competition it's how us, The Crowd, the spectators have been sucked into a huge industry that is centred on making money from the 'entertainment of the competition'. The goal is a greedy capitalist one: How to make the most money, fame and power from 'The Competition' and this in the process has disproportionately increased these rewards to the winners, increasing the spiral  the point that this is now a major contributor to Our One Point Zero Challenge.
Just like with all other creatures in Nature, Competition should have a natural, and very healthy role to play in the 'human creature' society. I believe that readjusting this out of control position of current society is part of what is needed for a Future One Point Zero world.