Still in port here at Tauranga!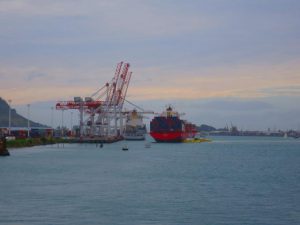 If I was flying this would be a very serious delay, but in my unknown of container ship travel, I'm realising this is the plan! Just like air travel 'delays', 'they' put me up in a hotel overnight!:  Hotel Cap Capricorn!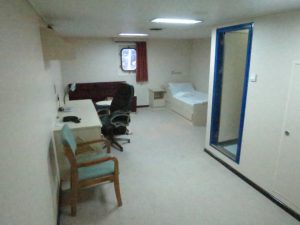 I slept in my next 20 day bed…..ate the food, met the quite a few of the 'boys' I'll be hopefully be getting to know soon.  (No 'girls' on this boat, and I know Fiona likes that….!!  That makes me wonder if / how many ships do have female crew?  That's interesting hey?)
Here is Mario, our all important Chef! He is from Romania.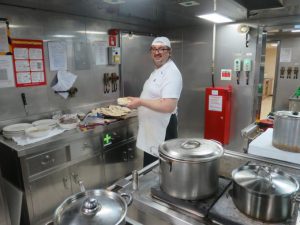 While skirting around 'sexist issues' under the Trumped by Nature banner, I did wonder how 'our friend' Mr Trump would manage 20 days to California on Cap Capricorn, and all its simplicity, virtual hardship, and virtual imprisonment? The Captain not at all interested in his 'importance' and asking him to address him as "Captain"!  Wealth, Fame and Power gets one nowhere here, this is a working ship, and these guys know who they are, where they are going, and what they have to do on this ship. I sense they probably wonder why the hell 'we' passengers would want to pay to join their work world?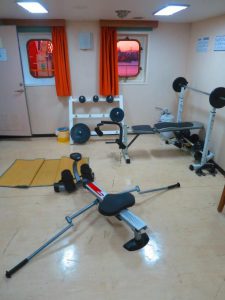 I have never stated in my blogs what many have asked me, but is hopefully the obvious:
I'm here as a paid passenger here, not as working crew, you can't do that anymore: OH&S!  I'm just as a working activist! Ha-ha, already I can see that my office, this ship, and of The Pacific Ocean, will be the source of many challenging, inspiring and 'problem solving' blogs!  (More about the ship, its commercial terms, cruise liner options, ecological footprint issues, my motives, etc in the 'At sea blogs… 'I find this is all fascinating stuff, and hope you will too….)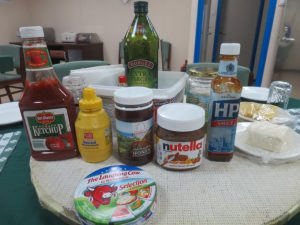 Just like this morning's range of breakfast condiments: The crew of 21 are from all origins, and I look forward to getting to know them individually.
The Container Ship 'Playground'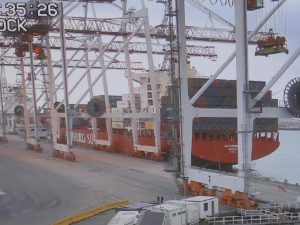 Like most of us I have seen container terminals from afar, or maybe even peering through security fences, but I have to say I have been blown away by being on Cap Capricorn, inside a surprisingly busy Tauranga Container Terminal: Witnessing from close quarters another set of mankind's awesome success in action. The speed, precision, and obvious big picture planning at work, as I would imagine over a hundred containers get off loaded and then driven off to the waiting road transport.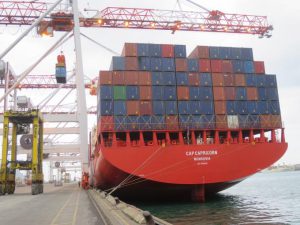 When I arrived Cap Capricorn's stern section was chock a block with stacked containers as the picture shows.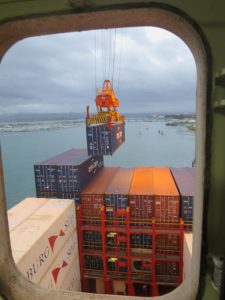 In fact they were so high, my view from the porthole of my seventh storey 'cell' was compromised. Six hours later all those containers have gone…!  It seems like the ship will be leaving with quite a bit of spare freight capacity.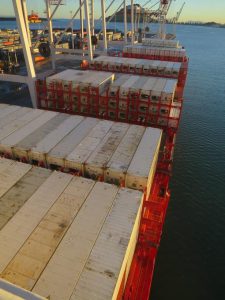 Cap Capricorn came from Australia, and is heading to the USA:  One reads about  trade deficits, and I wonder if this is evidence that the 'Kiwis' are dependent on the 'Aussies', and the 'Yanks' don't really need much from the Kiwis! Many of the containers remaining on board for the USA are refrigerated, some with seafood brand names, so I sense its seafood, and lamb and then I wonder how many containers of Marlborough Sauvignon Blanc and Manuka Honey there are…..?
Anyway, there we go a bit about from world:….. A little distraction from your more serious One Point Zero 'library' reading!!
A little more sorting out of my office and then in just a few days I will be adding to 'the library'.
The adventure has already brought up a creative idea for maybe improving our experience together: I'm thinking that many of you out there may want to contribute you thoughts and ideas on how we solve Our One Point Zero Challenge. Ie not just comments to this blog but your own 'papers' too?
Maybe it would be good if the site has the ability for you to send them in and 'we' post them in the appropriate place in the One Point Zero 'Library' to enrich and diversify its experience?
Let's think about it, and once you start seeing what I put into the library over the next weeks we can better assess. But feel free to let me know what you think..?
'We' throw off the mooring lines and head for the big blue Pacific in 1 hour now:
Bye for now…..!