Hello Mr Minister,
I'm not a 'Greenie' nor an 'Eco Warrior', but rather a 'Walk the Talk', 'Moral Warrior'.
I only have a desire to play my role in correcting the moral atrocities being inflicted on societies, both present and future. Atrocities that are being exposed by Global Warming and Climate Change, and 'we' are the first generation to knowingly be aware of the crimes.
'We' all know Climate Change is beyond doubt, and increasing Global Warming is an unsolved reality. These are symptoms of the problem western society has today:  Today's Definition of Society / Nation Success is Wrong. Its relentless pursuit has put us in a position where today we need the ecological capacity of more than 1.7 Planet Earth's Ecological Capacity to sustain US all…!   The last time we were in credit was 1969 and since then the deficit has been increasing every day, and projected to get to 2.5 Planets by 2050. If the Paris IPCC agreement was implemented to the targets, 'we' would need 2.0 planets by 2050, yet 'everyone' thinks the Paris Agreement 'commitments' was all we needed.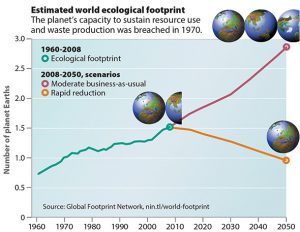 Within this very concerning global picture, when one looks at the New Zealand facts, the nation is uniquely positioned to capitalise on its assets, and play a global leadership role. In this context:
Question One:
Is the new, New Zealand Government, aware of the fact that based on the most recent Ecological Footprint data, New Zealand was one of the only developed, first world nations which was in Ecological Capacity credit?    Courtesy of the Global Footprint Network this is shown below: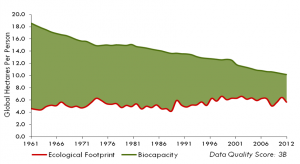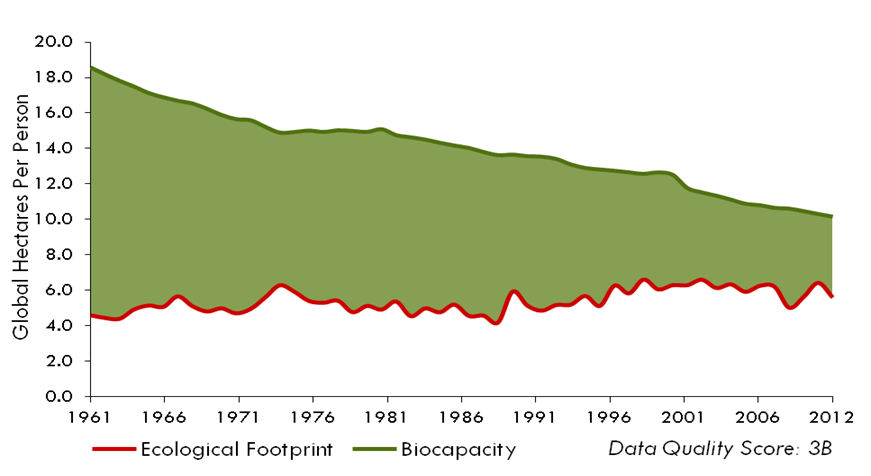 It would seem clear from the trend in the above graph that New Zealand, without significant intervention, is on a path to follow the other developed world nations into Ecological Deficit.
The value of the Ecological Footprint methodology is that it shows that this is not only about reducing Greenhouse emissions, eliminating fossil fuels, being Carbon Neutral, or restricting Planet Warming to a random number or fraction of degrees, as the IPCC agreement proposes. This is about the use of all natural resources, and the way we live..
It is clear from the top graph that Humanity has a Belonging Crisis, 'our' collective Way of Life for 'Our Success' is 'our problem'.
Yes, The Green Party knows this, and the Labour Party too…!.  The Nationalist Party were taking 'us' further towards that immoral 'Success', and Climate Change just one indicator showing us that we need to change that 'Success', and rapidly. As such Climate Change should not be a bolt on Green issue, but rather, Climate Change and more broadly, Ecological Sustainability are rather related to central ideology and highest level governance issues. This leads to the next two questions:
Question Two:
Is the new, New Zealand Government aware that based on the most recent Global Footprint Network data for the country, if everyone on the planet lived like 'The Average' New Zealander, 'we' would need 3.3 Planets to ecologically sustain the world's population?  (So, although New Zealand is in Ecological Capacity credit, the country's Average Footprint is very high. Surely Not Fair??
Question Three:
Is the new, New Zealand government aware of the fact that if all New Zealanders lived like the Wealthiest 1% of the New Zealand population, New Zealand would be in significant Ecological Deficit?
Ie. The same people who are on the 'Poor' side of the Wealth Divide, are Ecologically supporting the wealthy elite, and The Nation! This seems morally indefensible? Further:  Unless the 'Definition of Nation Success' is changed, improve equality by upgrading the wealth of the less wealthy without addressing the huge ecological footprints of the wealthy, will speed up New Zealand's path to Ecological Deficit.
From all my readings of the New Government's vision it is about moving 'us' some way off That Old Success, and aiming at a New Success. I believe this New Success must start with the highest level National Vision of living within One Planet's Natural resources (Ecological Capacity.) As a living example of someone (from the 1%) who has transformed their life from one that demanded many planets, to one that now lives within One Planet, I have seen how having this goal has the ability to address almost every aspect of the economy, community, and ecology that the new Government has indicated it wants to address.
Essentially, in following a One Planet, Ecological Capacity goal / constraint, an individual, whether at a community, a nation, or the whole of humanity level, each will be 'forced' to take on the values, and a 'Way of Life', that I believe are aligned with what the new Government are proposing.
Using an Ecological Footprint metric to manage the Nation will point the way to resolution of this challenging re-balancing dilemma.
A dilemma which is not just a New Zealand one, but an even more challenging one for the global, developed world. Finding a solution for this dilemma has been the focus of my current personal project, and I have some creative ideas for transformation enabling technologies, that would facilitate the process.
Question Four:
Does the Government believe we as Humanity, and New Zealand as New Zealanders, are morally and spiritually 'obligated' to live within One Planet Earth's Ecological Capacity? And if so, is it planning to use an Ecological Footprint metric to set the measurable goal for this New Success?   If not, how will this be achieved?
Question Five:
Is the new, New Zealand Government aware of the ground breaking, September 2016 Swiss Referendum on whether Switzerland should change course from a current 3.4 Planet consuming nation to a 1.0 Planet, constrained nation? (If desired, you can read about the Swiss Referendum here?)
This Referendum a Sustainability 'World First', but the Swiss Electorate decided against the motion, mainly because the radical change required was not seen as desirable as a lone ranger nation, where national competitiveness would be compromised.   Excitingly:  New Zealand is in a uniquely different space: (Today Switzerland needs 4.4 Switzerland's to Ecologically Sustain itself, whereas, as the graph above shows, New Zealand is already a sub 1.0 Planet consuming nation.
Therein lies a huge opportunity for New Zealand to adopt this Ecological Footprint metric:
To lead the world by 'Walk the Talk' example while using the metric internally to further reduce the collective footprint and achieve the new economic, social and equality goals that the new Government admirably desires. In this context the Ecological Footprint methodology and its metrics provide an integrated and holistic highest level indicator of Nation Success.
Question Six
Has the new, New Zealand Government considered using Ecological Footprint as its preferred methodology for addressing Sustainability and Climate Change imperatives? If, Yes, why was this approach rejected?  If, "No", would the new Government, consider evaluation of the Ecological Footprint methodology for use as its primary metric, at this perfect stage of New Success, Vision Setting?
As indicated above I believe the issues I am trying to address in a simple email Question form would be far more productively discussed in a face to face discussion. The concepts are fairly complex, but the most valuable aspect of the Ecological Footprint approach is that it provides a very simple and measurable set of parameters that can be applied from a Nation right down to its individual inhabitants, and in a fair and morally defensible way.
Surely it is a Human Purpose Imperative to ensure we live within One Planet's Natural resources, and to pass on a Nation / Planet that lives like that to the Future Generations?
I look forward to receiving responses to the Six Questions above, and thank you for the opportunity for me to present them to members of the Ministry.
Please feel free to contact me if I can help clarify anything regarding the above concepts, data sources, or for further discussion.
Sincerely,
Howard Fairbank
Tel.: UK:   +44-777-1357-199  NZ +61-212090486
skype:howard.fairbank
Without Nature We are Nothing..!

From: Georgina Beasley [mailto:Georgina.Beasley@parliament.govt.nz]
Sent: 22 February 2018 10:09
To: howfair@bigpond.com
Cc: Dave Butler-Peck <Dave.Butler-Peck@parliament.govt.nz>
Subject: RE: I'll be in Wellington: RE: A New Vision for NZ that sets the pace for Global Change on Climate Issues
Kia ora Howard
Please send through your questions and we will ensure the appropriate official answers them for you.
Ngā mihi
Georgina
Georgina Beasley | Private Secretary, Climate Change

Office of Hon James Shaw | Green Party Co-leader | Minister for Climate Change | Minister of Statistics

Level 7, Bowen House, Parliament Buildings, 80 Lambton Quay | Private Bag 18041 | Wellington 6160 | New Zealand
E: georgina.beasley@parliament.govt.nz

P: 021 840 942